DAI ROMANTICI A SEGANTINI. Storie di lune e poi di sguardi e montagne.
from 29 Jan 2022 - to 05 Jun 2022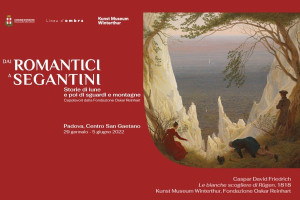 An exhibition, completely new for Italy, that tells the story of the 19th century between Germany and Switzerland, a period in which Romanticism was established all over Europe, thanks to artists such as Caspar David Friedrich, who is present in the exhibition in Padua with five wonderful paintings.
In the halls of the Centro San Gaetano you can admire, as the subtitle says, stories of moons and then of sights and mountains: numerous portraits from Albert Anker to Giovanni Giacometti, the nocturnes of Friedrich and Menzel, enchanted alpine visions from Caspar Wolf to Ferdinand Hodler, in a crescendo ending in the famous highlands paintings by Giovanni Segantini.