ANDY WARHOL - Icona pop
from 29 Sep 2022 - to 27 Jan 2023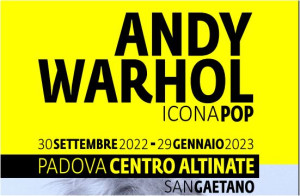 The exhibition is located at the Altinate Center in Padua, where the poetics of the genius of Pop Art, Andy Warhol, is investigated, focusing on his representation of American society and culture.
The exhibition is divided into 9 thematic sections, starting with the biographical portrait of the great New York artist. 150 works are exhibited including drawings, engravings, serigraphs, polaroids, sculptures and postcards.
A pressing journey into the eccentric world of Warhol, the pop icon par excellence.