Padova EALE 2021
07 Apr 2021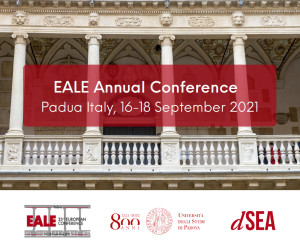 EALE 2021 CONFERENCE HOSTED ONLINE BY UNIVERSITY OF PADUA
16-18 September 2021

The EALE Executive Committee has decided, after careful consideration, that the EALE 2021 Conference will move fully online. The continuing uncertainty about what the pandemic situation will be in September is making it impossible to plan an in-person event, previously scheduled at Fiera di Padova. The Department of Economics and Management "Marco Fanno" of the University of Padova is excited to be your virtual host for this year's conference as we work to keep our community connected through these unpreceded times.

Local organizing committee
Giorgio Brunello, Professor, Dept. of Economics and Management, University of Padova (chair)
Guglielmo Barone, Associate Professor, Dept. of Economics and Management, University of Bologna
Marco Bertoni, Associate Professor, Dept. of Economics and Management, University of Padova
Elisabetta Lodigiani, Associate Professor, Dept. of Economics and Management, University of Padova
Lorenzo Rocco, Professor, Dept. of Economics and Management, University of Padova