St. Anthony Path from Sicily to Padua: 9th of NOvember
09 Nov 2018 Caffé Pedrocchi - Sala Rossini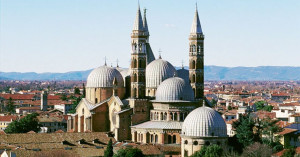 On Friday November 9th at 5 pm, in the Rossini Hall of the Caffè Pedrocchi, the conference will be held: "Il Cammino di Sant'Antonio: on the steps of the Saint from Sicily to Padua". As part of the work, the project of the "Cammino di Sant'Antonio" from Capo Milazzo to Padua will be presented, of which the Basilica del Santo and the association of the Cammino di Sant'Antonio are promoters, with the involvement of the Municipalities of: Milazzo , Camposampiero, Assisi and Padua. "
The City of Padua has approved the declaration of intent for the construction of the route of the southern route, historically the first walk of the saint upon arrival in Italy in 1221, from Capo Milazzo (ME) to Padua passing from Capua and Assisi, which will be signed at the end of the conference.
The DMO Padova Consortium identifies the city and its province, as a natural destination of the route and its devotional and spiritual value, but also a concrete realization of an itinerary to enjoy the richness of art, culture and landscapes in a participatory and sustainable way.