IMP FESTIVAL PADOVA
from 04 Jun 2021 - to 27 Jun 2021 Padova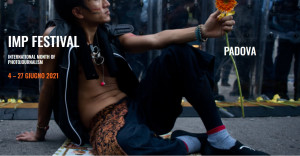 From 4 to 27 June Padua will take place one of the largest Italian events dedicated to photography and the first Festival in Italy entirely dedicated to the world of photojournalism.
In the 2021 edition of IMP - International Photojournalism Festival, promoted by the Department of Culture of the Municipality of Padua and the University of Padua, 30 international authors will guide the public in the exhibitions set up in the most prestigious museums and exhibitions of the city , in addition to which other exhibition events will be added as a corollary: guests of excellence, four workshops with some of the most successful authors on the international scene, portfolio readings with the photoeditors of the major Italian newspapers, over 30 talks and conferences.
The event was born with the desire to bring the city of Padua and its artistic, architectural and monumental heritage to the national and international cultural scene: in fact, 8 main exhibition venues have been identified, from Palazzo Moroni, to the Ex Macello Cathedral and to the Gallery. Cavour, easily connected in an accessible circuit for visitors that includes the main historical sites and the most attractive tourist places of the city.