"FLY & MEET": German buyers from the conference industry gather in Padua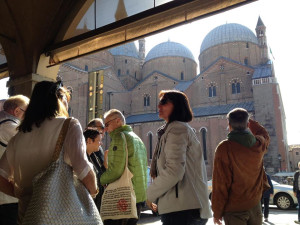 Two days of work side-by-side to convince the Germans that Padua, more than ever before, is an ideal European destination for conference events. An initiative organised by the Padua Convention Bureau in conjunction with Air Dolomiti and Convention Bureau Italia.
Italian and German tourism operators together in Padua for two days of side-by-side work. The aim? To help Padua "soar". This is the goal of "Fly & Meet", an educational workshop organised by the Padua Convention Bureau (part of the DMO, the tourism consortium established by the Province, the Chamber of Commerce and the Municipality) in conjunction with Air Dolomiti and Convention Bureau Italia.
The event will be held on Monday 8th and Tuesday 9th October in Padua. On the first day, the ten German operators taking part in "Fly & Meet" – agencies and companies interested in organising meetings and events in Padua – will visit the region to explore the city and the province as a potential destination of choice for their customers. The group will visit Prato della Valle, the Basilica of Saint Anthony, and the new MUSME (Museum of Medicine). And that's not all: on the Monday afternoon, accompanied by the Padua Convention Bureau, the German guests will visit the Scrovegni Chapel before travelling to the Euganean Hills for a visit to Arquà Petrarca, to an olive oil mill and for a dinner prepared using produce from the local area.
On the second day of the German group's stay in the city, Tuesday 9th, a "business-to-business" workshop will be held in the morning to bring together supply and demand, with scheduled meetings: ten tour operators based in Padua (hotels, hotel chains, historic villas, service providers) have already confirmed their attendance and their desire to get to know their German "buyer" colleagues. In the afternoon, the delegation will head to Villa dei Vescovi and to Y-40, the world's deepest swimming pool.
"The goal of the event", says the president of the DMO, Flavio Rodeghiero, "is to establish relationships with German-speaking event organisers and tourism operators with the aim of making the city of Padua an increasingly cosmopolitan place capable of hosting conference events devised and organised by European businesses from the other side of the Alps".
BUYERS IN ATTENDANCE:
Berthold Meeting & Medienservice
Röhnisch Sportswear
Social Media Interactive GmbH / BodyChange
CL-Events
Top Bavaria Travel GmbH European Travel and Events
ICJ mice BLOG, ICJ Luxury BLOG
ICJ mice Marketing
Munich Leadership Group
VCN Veranstaltungsorgani
TerraMundus BV
Telos Medi@World & Incentives