"Giardino di Stelle": un progetto di videomapping curato da CircuitoZero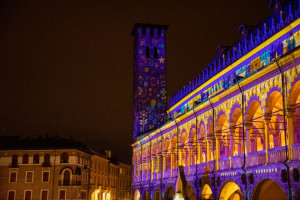 "Un giardino per camminare e l'immensità per sognare, cos'altro si potrebbe chiedere? I fiori ai suoi piedi e sopra le stelle." Victor Hugo
With this quote by the poet Victor Hugo, the City of Padua and CircuitoZero involve visitors with the project "Giardino di stelle": a journey through various video and light installations that illuminate the city of Padua during Christmas 2022.
The artistic initiative, developed with innovative and avant-garde technologies, follows the theme: Botanical nursery flora and the link of the city with the stars.
One of the places chosen for the representation is the Basilica of Santa Giustina, where the facade lighting is enriched with floral decorations and is completed with the help of artificial intelligence software.
In the Santuario di Sant'Antonio d'Arcella, the image of the Saint with the Child is illuminated by floral decorations. In one of the last scenes, the protagonist is Palazzo della Ragione, where the large hanging room is transformed into a Victorian greenhouse to celebrate the oldest botanical garden in the world. With the narration of videomapping, CircuitoZero tells the magic of the Christmas period, through the use of colorful kaleidoscopes that recall the stars and flowers.
The videomapping provides animated shows in Piazza delle Erbe from dusk about every half hour.
The stable exhibitions are scheduled in: Piazza della Frutta, Piazza dei Signori, Basilica Cattedrale di Santa Maria Assunta, Basilica di Santa Giustina and Sanctuary of Sant'Antonio d'Arcella.
For more information: Giardino di Stelle