The 13th international conference on military geosciences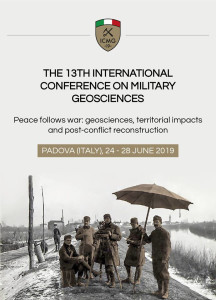 From 24 to 28 June 2019 Padua will host the international conference ICMG19 - 13th International Conference on Military Geosciences entitled "Peace Follows War: Geosciences, Territorial Impacts And Post-conflict Reconstruction, organized by the Department of Historical and geographic sciences and the Ancient world of the University of Padua (DiSSGeA) on behalf of the International Association of Military Geosciences (IAMG) and in collaboration with the Italian Society of Geography and Military Geology (SIGGMI).

The conference, now in its thirteenth edition, will be hosted at the University of Padua. It is an international initiative of great importance that involves geographers, historians, geologists, archaeologists, military and military geoscience experts. The Aula Magna of Palazzo Bo will host the opening ceremony on 24 June from 9.00 a.m..

The subjects addressed will concern the theatres of battle of the 20th century, post-war peacekeeping missions, activities related to the battlefields reconstruction, tourist and cultural valorisation and geopolitical issues related to border management in conflict areas.
The presence of qualified foreign guests will be useful to know the reality of the Triveneto in terms of territorial and historical-identity offer in the cultural, landscape and tourist field.

The conference is open to students, associations and citizens. Some excursions to Padua are planned, as well as a visit to the city's museums.
Free entry event upon request at www.icmg19.it