The Beat of Innovation: the new Padova Congress video made by Jolefilm!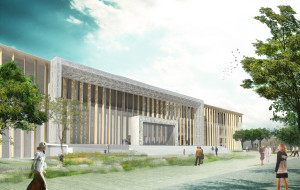 After Giotto, with his incomparable blue that distinguishes the Scrovegni Chapel vault, and Galileo Galilei, who scanned the nuances of the Paduan sky, Padova Congress too recalls the emblematic colour of two great figures who made the city a hub of art and science.
And Padova Congress, which has been designed by architect Kengo Kuma, represents the symbol of innovation: here will rise the so-called "blue kilometre" that joins the railway station, the SMACT Competence Center Live Demo, the new Faculty of Engineering, Galileo Park, Le Village, the Soft City and Fiera di Padova.
An ecosystem that becomes the main character of "The Beat of Innovation", made by Jolefilm. A video directed by director Marco Segato, which was previewed during the opening day of Padova Congress on 7 April.
The ecosystem narrated in the video, with the presence and the narrator's voice of the philosopher and evolutionist Telmo Pievani, will be a space where scientists, researchers and entrepreneurs from all over the world will meet, in a square dedicated to innovation, events and exhibitions.
A journey that starts with the story of the new congress centre birth and continues with the discovery of Padua today and in the future, with its exhibition centre that will become the first innovation hub in Veneto Region.
Click here to watch Padua Congress video!